Welcome to the eBlessings' Gift Shop Mall! Shop Where the Lights Never Go Out!
Shop at Our New Amazon Stores! The eBlessings Mall
| | | |
| --- | --- | --- |
| | | Look for Upcoming Specialty Shops |
| Gift Shop 2 | | |
| Thanks for your support! | | We Appreciate You! |
If you prefer to purchase your items with cash, checks, traveler's checks or money orders, thank you for sending your requests along with your payment, with the items specified to :
809 Parkway Drive * Henderson, NC 27536
This is the eBlessings' Gift Shop preview page. Thanks for your patience. Here are samples of the great offers available to you, your family and your friends for birthdays, anniversaries, holidays, and just because!
---
This book is $5.00 USD. Free shipping with orders of two or more.

This a book of poetry written to inspire the urban society. It is filled with everyday emotion. The poetry is high on the ladder on poetic license. And there is no profanity! It is insightful and multi-dimensional and fun to read. Read and enjoy!

The author: marcus@eBlessings.us ;(404) 734-7258
---

---
This handmade banana leaf map of Rwanda is an excellent example of crafts coming out of HOSTA orphanage in Rwanda. These are just a sample of the Rwandan arts and crafts being generated by the children of the HOSTA orphanage in Kigali, Rwanda, Africa.

Contact HOSTA or Rev. Jim Jackson:

hostaong@yahoo.com ; (250) 08540121
---
---
The A, B, C's of how to save money when renting audio visual equipment and services. It is both a primer and a money saving tool for those who plan and use conferences and meetings as a tool to convey information to groups or individuals. A great tool for organizing, planning and saving money on your functions which require audio or video equipment. AV users, this tool is for you!

The author: Anthony@eBlessings.us ;(404) 734-7258
---
---
Throughout the journey of our lives we grow daily in so many ways. So, if you are going through something with your mind, spirit, family, home or so-called friends or addictions of life that only God can cure--Remember, be strong and hold on!

My prayer is for this music to reach the people through their hearts, mind and soul. So that the message of music and life may inspire them to proceed with their dreams with Faith. Tell Brother Jay, eBlessings sent you!

Contact Brother Jay for Bookings, Ministry, Concerts, CD Orders at:

or call: 904.766.6114

Peace, Love Always Brother Jay
---
---
CHANGING CHILDREN GOD'S WAY

Bulgaria

The Lord called Himself: The God of Abraham, Isaac and Jacob. That means He is a generational God. Everybody knows that we can have the greatest revival in the world, but if we do not invest in our children, who are the next generation, everything will be lost in 30 years or so. This is a ministry that wants to teach God's children God's way, giving them a full range of Christian children's materials in a country where there are almost none.

Thank you for your support!

Nikola Dimitrov
---

---
Democratic Republic of Congo

Products from the Heart of Multi-Cultural Central Africa

The Democratic Republic of Congo has 45 million people with 52 distinct tribes living in 8 provinces. The political capital is Kinshesha and the economic capital is Lumbumbashi. The DRC is a French-speaking former colony of Belgium.


Artisan products made from over 32 different gem stones which are still rendered in the artisan way. DRC is a land rich in mineral resources: cobalt, bronze, gold, diamonds, mercury, malachite, and hematite to name only a few. Born again Christians are involved in the production of these artisan products. These products are presented at very good prices in an atmosphere of openness, honesty and in the love of God.
---
---
FORGETTING THE THINGS BEHIND

AND STRETCHING FOR THE ONES AHEAD

by Nikola Dimitrov

Bulgaria

The devil wants us to always dwell in our past. One of his main weapons is to make us feel guilty and condemned, because of our past sins, failures, mistakes, and wrong doings even when we have repented of them.
God on the other side wants us to live in our present while always focusing on our future. He has a plan and a Divine destiny for each and every one of us.
The decision is ours to take – to always follow the light of the Word of truth that is being revealed to us by the Lord, or to believe the lies of the devil and thus settle for anything less than God's best.
This is not a theoretical book. It is a living revelation from God's heart and it can change your life completely, giving you the strength to always pursue God's Divine purposes without getting weary of well doing.

God Bless You!
---
---
These are banana leaf relief greeting cards created by Rwandan orphans in the Christian organization, HOSTA. The children of HOSTA make these Greeting Cards in the tradition which has been passed down through the years. What a joy it is to see such beautiful handiwork created by innocent hands. Many people purchase the cards, frame them and place them on their desks or walls. They are a great gift.

Contact HOSTA or Rev. Jim Jackson:

hostaong@yahoo.com ; (250) 08540121
---
---
This book is $5.00 USD. Free shipping with orders of two or more.

This is Book One in the "Spirit Soul/Flesh Soul Series". Read and be empowered! "Growing Our Spirit Soul" is a motivational, empowering, inspirational booklet which contains Holy Spirit-given revealing words which are to raise a generation of spiritual warriors in the world and for the Kingdom of Christ Jesus! This book will illuminate you and move the Body of Christ into positions of empowerment through Christ Jesus!

The authors: Anthony@eBlessings.us

and Marcus@eBlessings.us (404) 734-7258
---

---
Heaven Up..!
A Christian Family Board Game!
The game of "Heaven Up..!" is an inspirational, spiritual and educational tool that aids and leads young and old to a more spiritually fulfilling life.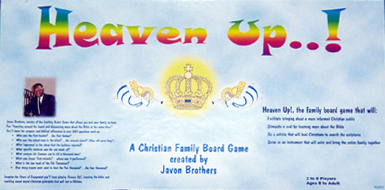 Javon Brothers can be reached at:
email: Javon45@aol.com
or call: 770.786.3845
Every square on the board speaks to a moral or spiritual principle that encourages us in our daily walk with Christ.
"Heaven Up..!" inspires us to be better informed Christians,
increases our desires to search the scriptures and learn more about the Bible.
"Heaven Up..!" serves as a tool that will bring the family together for fun and enjoyment!
---
---
This book is $5.00 USD. Free shipping with orders of two or more.

What is your drug of choice: shoes, clothes, sugar, candy, beer, relationships, over the counter- or under the counter- drugs, or work? This booklet is an inspirational, motivational look at the divine, supernatural deliverance of a crackhead! Lives have been changed because of this book! Read and be blessed continually!

The author: Anthony@eBlessings.us ;(404) 734-7258
---
A CLC Publication

Freetown, Sierra Leone, Africa

Esme James knows that many of us are going through life convinced that Jesus cannot do anything about our health issues. As a result, we suffer from health issues needlessly. People often live in despair and discouragement when they don't have to . "My people are destroyed for lack of knowledge," the Bible says in Hosea 4:6 (KJV). This little book gives you some insight about how to speak to your mountain of health problems so that they go away. It also shows you how to pray in faith and how to keep your healing!

The author: gospeltruthministry@yahoo.com
---
---
Products from East Africa

Bordering the Indian Ocean, between Somalia and Tanzania, Kenya is slightly more than twice the size of Nevada. English and Kiswahili are the official languages. Gold, rubies, and garnets are among its natural resources. Rich in artisans, a large majority of Kenyans are Christians. Share our efforts towards cultural enrichment with the purchase of their handmade products.
---
---
Scriptural and Herbal Cures from Adonai for All Diseases,

including AIDS/HIV *

Call Michael... (876) 467-0486

Jamaica Mount Zion International Herbalist

Michael Johnson

Herbal Physician

(876) 467-0486

Michael is looking for individuals with HIV/AIDS to test what he believes is a God-given cure for AIDS. He says that the LORD has given him many cures for many of the diseases which afflict man today. Give him a call to see how the LORD can help you through this servant of the Most High.
---

---
With his studio in New Orleans completely destroyed by Hurricane Katrina,
Ronald Jones, a free-lance artist, seeks your support.
(Please be in prayer for Ronald who almost died recently from high blood pressure.)
| | | |
| --- | --- | --- |
| Jazz Serenade | (504) 261-3021 | Bible Study Series 2 |
Ronald's works include the 1992 New Orleans Jazz and Heritage Festival Congo Square poster and his painting "Bible Study" was recently inducted into the New Orleans Museum of Art. He is soliciting donations to help rebuild his studio and to aid in his creative recovery.
rjones@eblessings.us * (504) 261-3021
( Art is signed and numbered. Framing is available upon request.)
---
This book is $5.00 USD. Free shipping with orders of two or more.

This poetry is a series of highly creative, impacting words which will move your emotions! The poetry is not elementary and is multi-dimensional and will move you to new depths of thinking and everyday considerations of your daily movement! Read and smile! Read and remember! Read and find joy in words! To God be the Glory!

The author: Marcus@eBlessings.us ;(404) 734-7258
---
---
SECRETS OF BUSINESS SUCCESS

This book reveals biblical truths coupled with management principles on how to start and run a successful business. The insights into deep revelations in the word of God will challenge you to fruitfulness in your business endeavor as you apply them.

Rev. Wole Gbobboade is the General Overseer of Christ Family Evangelical Mission, Agbado Station, Ogun State, Nigeria. He was the Regional Sales Manager of a multinational company before he went into full-time ministry.

Email: wosp2003@yahoo.co.uk
---
THE FOUR IN ONE GOSPEL OF JESUS
The Four in One Gospel of JESUS is a unique, Holy Spirit-inspired book which serves as an inspirational blessing which will enrich your life spiritually, empower you in His Word, enhancing your walk with God!
Pastor Nikola Dimitrov

Purchase Now from Amazon!
The Four in One Gospel of JESUS is the four Gospels compiled chronologically giving the fullness of each Bible story and of each Gospel. It is great for preachers, lecturers, studiers of the Word, and everyday Bible readers. With one Gospel as the base and the other Gospel books as supplements, this book gives complete stories and facts using all available information with not one scripture left out. All the Gospel text from each book, in this eight-year study, is blended in concise, comprehensive, and chronological order.
---
---
A Fresh New Novel

A Fresh New Novel!

"Wardaddy" is a book based on a true story about a man who became paranoid schizophrenic from the stresses of life. The story is a thirteen year ordeal of love, pain, triumph and loss. "Wardaddy" is a truly inspiring look at a family's trying relationship with a father who was at war with himself and his family. Look for "Wardaddy" gear! Mugs, T-shirts, baseball caps, and more!

The author: Anthony@eBlessings.us ;(404) 734-7258
---
---
---
---
If you have books, games, ideas, products, services or something which God has given you to present to the world community, please sit on it no further. God has given you an outlet!

Contact Anthony at: eblessings@gmail.com

*eBlessings.us is not responsible or liable for any injury, loss, or damage associated with the claims or use of any formulas, tonics, herbs, etc.

Consult with your health care practitioner prior to use of formulas, tonics, herbs, etc.

---

Each One! Bless One!

A Vision of Caring and Sharing!

You Make a Difference!

---

---

All written correspondence, checks (cheques), money orders, offerings, tithes, gifts, joys, love offerings, contributions, support, and all payments may be sent to:

eBlessings.us

Email may be sent to:

---

or

All written correspondence, checks (cheques), money orders, offerings, tithes, gifts, joys, love offerings, contributions, support, and all payments may be sent to:

TO ANY OF THE MINISTRIES, ORGANIZATIONS, ORPHANAGES LISTED ON THIS WEB SITE.

Please feel free to contact any of the Outreach Partners whose information is found on this web site to send your financial gifts of support as they help you spread the Gospel to all the corners of the earth. If you have any questions concerning any of the ministries, visiting countries, and any other points of interest and questions, direct them to James Anthony Allen, Email: eblessings@gmail.com.

---

---

or

Offerings, tithes, gifts, joys, love offerings, contributions, support,

and all payments may made here through Pay Pal:

Secure Pay Pal Site

---

A Vision of Caring and Sharing!

You Make a Difference!

---

---

eBlessings * Henderson, NC 27536 * (919) 514-9029 (c) * (252) 572-4118 (h) * (252) 654-0514 (s)

Copyright © James Anthony Allen 2012 * Copyright © eBlessings 2012 * All rights reserved * Revised: 01/04/12


Translation Service
Outreach Partner

TERESA'S
HOMELESS
MINISTRY
In need of:
Men's Winter Coats
Men's Shoes
Canned Goods
Clean Clothes
Love
&
Prayers
THANK YOU!
A Fresh New Novel

WARDADDY
the Novel




eBlessings

Participate in the eBlessings Pen Pal program. Tell your School Administrator or your Church Superintendent about this wonderful opportunity.
IWILLNEVERLEAVEYOU

GROWING OUR SPIRIT SOUL
GROUNDBREAKING SPIRITUALLY EMPOWERING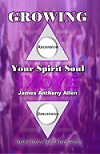 Videos (GSS)
Anthony: When I prayed to the LORD for the financing for eBlessings, the Holy Spirit said, "AC Brown is coming over." I said, "Who is AC Brown?" When AC got to the door, he said, "The LORD told me to come by here." You see below the results--with more to follow.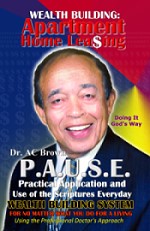 PREVIEW
CHAPTERS 1- 4

PDF for Friends & Family
(printing style: booklet)
(print two pages per sheet)